Abseil Single Pitch Course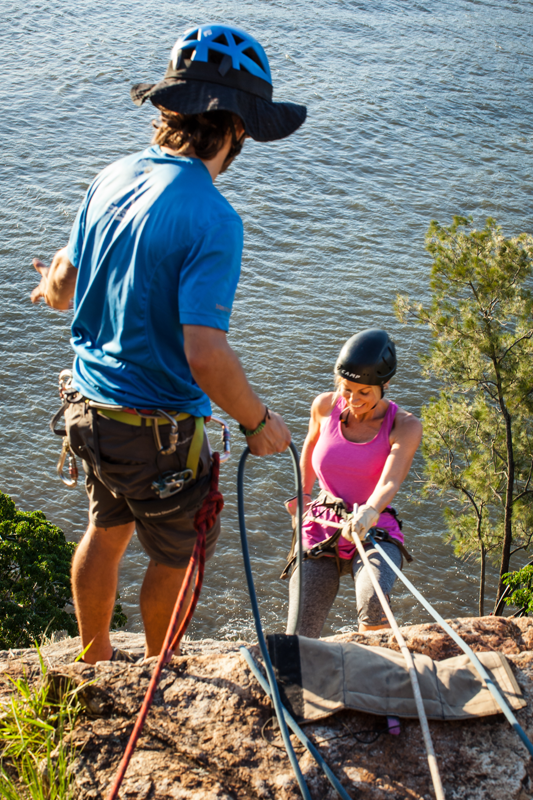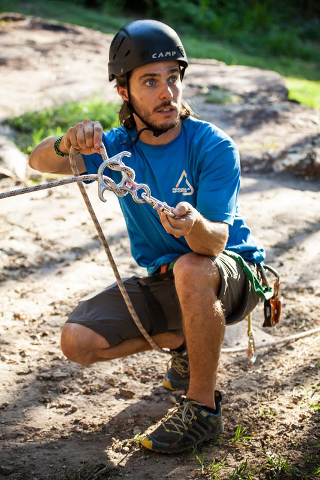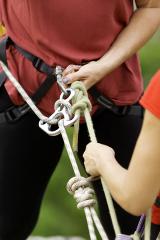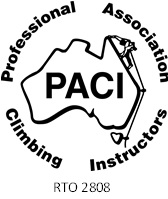 Duration: 10 Hours (approx.)
Location: Brisbane, QLD
Product code: AABNE-ASPC
For details on the precautions we are taking to mange the risk of COVID-19, please click here.
Abseiling Course
In the vertical world, abseiling is a vital skill. Not only is it useful for mobility in rock climbing applications, it's a fun activity in its own right! But it's only fun if everyone comes home in one piece. Don't leave your safety to guesswork - get trained by the best.
Our abseiling course is nationally accredited and designed to teach you the best practices for single pitch abseiling. Our qualified instructors will teach you everything you need to know to build your own anchors and descend with confidence.
Keep in mind that alumni of any of our courses are invited you to join our exclusive Pinnacle Climber's Club - it's our way of welcoming you to the Pinnacle family, as well as the SEQ climbing community. As well as honing your climbing technique, you'll also get some other cool benefits like 15% of RRP for anything in our West End store!
Course Content:
The Abseiling Course provides in depth training and examination of the following skills:
Equipment selection

Knots

Safety calls

Rope management

Anchor systems

Practical abseiling skills

Improvised descending system (Munter hitch etc)

Self belay systems.
Our instructors:
Our awesome instructors are highly trained and accredited by PACI (Professional Association of Climbing Instructors). They will be teaching PACI content. Put simply, they are subject matter experts. They'll provide you with all the gear you'll need, as well as the theory material you'll need to get a firm understanding of the concepts you'll learn. If you have your own gear, we encourage you to bring it along – your instructor will check it out and let you know if it's suitable to use.
Session Times and Locations:
The course runs for 1 day from 7:30am to 5pm and is conducted at Kangaroo Point Cliffs.
This is an accredited course, bookings must be made 2 weeks in advance. Study materials and exams will be sent after payment is received.

Fitness Requirements:
Abseiling is not particularly strenuous, so you don't need to be exceptionally fit to conduct this course, but you should be able to get up and down several flights of steps each day.
Why choose Team Pinnacle?
With more than 15 years of experience, Pinnacle Sports is South East Queensland's leading provider of rock climbing and abseiling training and experiences. We work closely with Queensland Parks and Wildlife Service (QPWS) and other management organisations to ensure that our outdoor activities are fully permitted and environmentally sound. Our reputation for high quality outdoor experiences has been built on low instructor to participant ratios, meaning you get more time to do the rad stuff! Here at Team Pinnacle, we love all things vertical and we're looking forward to sharing our passion with you.
Pre-Course Preparation:
PACI Exams MUST be completed, prior to the course start date and submitted to the instructor on the first morning of the course.

PACI Study guides are sent with the booking confirmation and are available as a downloadable link. Study guides assist with the completion of the exams. Allow a day to complete the exams

Statements of attainment will not be issued unless exams are received completed

Take some time to practice your knots (refer to course outline and Knots Study Guide)

Ensure you have all the meeting times from your instructor (If you need to organise gear from your instructor let them know well in advance)

Unique Student Identifier - Each participant will require a Unique Student Identifier (USI). A Unique Student Identifier (USI) is a reference number made up of numbers and letters that gives students access to their USI account. A USI will allow an individual's USI account to be linked to the National Vocational Education and Training (VET) Data Collection allowing an individual to see all of their training results from all providers including all completed training units and qualifications. The USI will make it easier for students to find and collate their VET achievements into a single authenticated transcript. It will also ensure that students' VET records are not lost.The USI will be is available online and at no cost to the student. This USI will stay with the student for life and be recorded with any nationally recognised VET course that is completed from when the USI comes into effect on 1 January 2015. For more details, please refer to http://www.usi.gov.au/Pages/default.aspx. A statement of attainment will not be issued unless we have received a USI. If you have a valid USI please advise at time of booking. If you require a USI, please visit http://www.usi.gov.au/create-your-USI/Pages/default.aspx to create one (this should take about 5 mins)

Language, Literacy and Numeracy Prerequisites - To comply with government reporting, all students must complete the LLN (Language, literacy and numeracy) self-assessment questionnaire. The LLN form is sent at the time of booking. Return the completed form within 1 week of booking onto the course. This is to ascertain if further assistance is required or not.
The Fine Print:
Participants must be at least 15 years of age

Participants must be able to speak, and understand the English language. This requirement is stipulated on the grounds of safety at height

Participant must complete an LLN self-assessment questionnaire to be handed in prior to course commencement

Participant must have a Unique Student Identifier (USI) number

Statement of Attainment certificate will be sent electronically

This activity is subject to minimum and maximum numbers to run. In the event that the minimum number of participants are not available, the activity may be rescheduled. A decision is made the week prior to the activity.

Bookings must be made 2 weeks in advance. Study materials and exams will be sent after payment is received.
2021 Courses

Jan 9
Feb 27
March 27
April 17
May 22
Please ensure that you are aware of our full terms and conditions including our refund and cancellation policy before booking.