Tibrogargan Guided Climb (dates on request)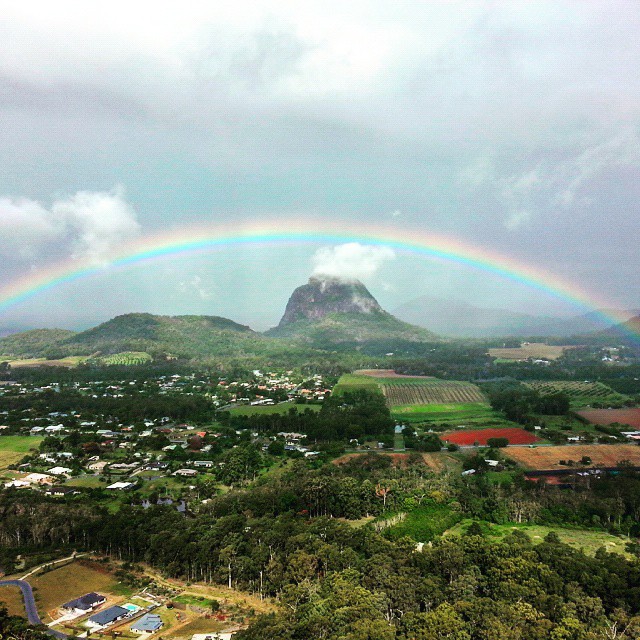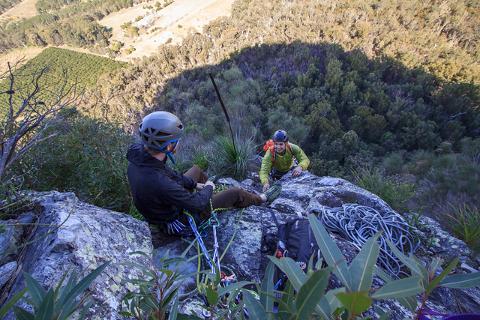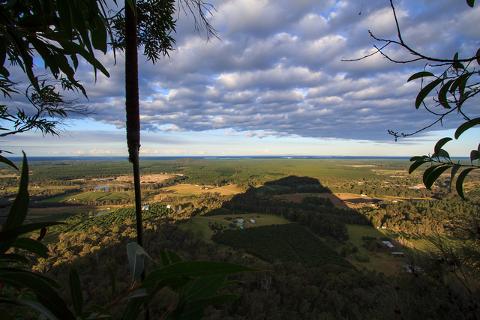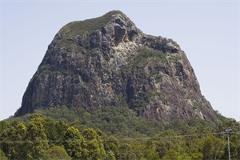 Duration: 9 Hours (approx.)
Product code: PS-TIBROGC
For details on the precautions we are taking to mange the risk of COVID-19, please click here.
Note that availability for this adventure is on request. Please contact us with your desired date/s and we will do our best to accommodate!

For millennia, the iconic shapes of the Glasshouse Mountains have captured imaginations, but perhaps the most captivating of all is Mt Tibrogargan.
This proud dome of volcanic rock is famous for its appearance as a giant apelike head, staring out toward the ocean in eternal vigil. It is a place of great historical importance to ancient and modern people alike, a mountain with an undeniably magnetic appeal. If you're one of many who've felt the tug of this striking peak, maybe it's time to become part of the Tibrogargan story.
Tibro, as it is known to climbers, is perhaps the most popular rock climbing destination in the Glasshouse Mountains. It houses a massive variety of climbs, from short, punchy lines to long, easy scrambles and everything in between. This means that there is literally something for everyone – whether it's your first time outside of the gym or you're an experienced climber looking for a new challenge, Tibro has something for you. Our qualified guides will tailor the experience to suit your needs, but here are some of the fantastic options available:
The Caves Route - 300m, Grade 4
The easiest but longest climb on the mountain, this mountaineering-style classic forms a great introduction to climbing in the Glasshouse Mountains. Fantastic views and a decent amount of exposure make this a memorable outing.
Black Orpheus - 145m, Grade 10
Another historical classic, this route is a superb 4-pitch romp that finishes in one of Tibro's most impressive caves. Fairly easy, but with enough spice to make it exciting.
Blabbermouth - 200m, Grade 16
A real treat with beautifully clean rock and exceptionally varied climbing. This route finishes on the iconic Northeast Buttress, where glimpses of the amazing summit caves can be marvelled at.
Zeitgeist – 105m, Grade 17
One of the shorter routes on this list, but certainly packs a punch at the crux! A deservedly popular climb.
Traxion Action - 200m, Grade 17
One of the newer additions to Tibrogargan, this fully-bolted adventure route can be found on the relatively undeveloped South Face. This means lots of shade, which makes it a great option for the warmer months.
Sunburnt Buttress - 200m, Grade 19
This 6-pitch climb features excellent moves that will keeping you guessing all the way. Once you've finished this challenging route, you can relax on top with sweeping views of the region and the upper roof systems of the Northeast Buttress.
Session Times and Location:
This activity runs for about 8 hours and is available on request from Monday to Saturday. It is subject to guide availability and permit requirements, so please contact us to confirm a date by calling our friendly booking team at 07 3368 3335 or emailing online@pinnaclesports.com.au.
Mt Tibrogargan is located in Glasshouse Mountains National Park approximately 60 minutes north of Brisbane. We'll make it easy by meeting at the Puma Service Station (840 Steve Irwin Way) at approximately 8:00am and returning around 4:00pm.
Our guides:
Our awesome guides are highly trained, fully accredited, and heaps of fun! They'll teach you everything you need to know, as well as take care of the safety procedures and provide all the gear, including harness, helmet, climbing shoes, and all other technical equipment.
What to bring:
Although your guide will provide all the safety gear, you'll still need to bring a few bits and pieces, including:
Non-restrictive clothing. Check the weather forecast to get an idea of the conditions, but remember that the summit is exposed and weather can change quickly, so a light jacket or wind jacket can be handy

Enclosed footwear such as hiking boots or runners, sturdy enough to handle a rough trail

A backpack big enough to carry all your gear plus some of the required safety equipment (e.g. ropes)

2-3 litres of water, hat, insect repellent, sunscreen, sunglasses

If you have some climbing gear, bring it along so your guide can check it out and let you know if it's good to go

Your own food and snacks, full of energy to keep you happy and psyched!
Fitness Requirements:
You'll need a moderate level of fitness for this activity. To access the climbing areas, a hike of about 30 minutes is required, often along steep and uneven trails. You'll also require some prior climbing experience, whether in the gym or outdoors. Any Tibrogargan climb involves a long day on the wall with a decent amount of mileage.
Why choose Team Pinnacle?
With more than 15 years of experience, Pinnacle Sports is South East Queensland's leading provider of rock climbing and abseiling training and experiences. We work closely with Queensland Parks and Wildlife Service (QPWS) and other management organisations to ensure that our outdoor activities are fully permitted and environmentally sound. Our reputation for high quality outdoor experiences has been built on low instructor to participant ratios, meaning you get more time to do the rad stuff! Here at Team Pinnacle, we love all things vertical and we're looking forward to sharing our passion with you.
The Fine Print:
All participants must complete a waiver prior to beginning the activity. Participants under 18 years of age will require a parent or guardian to sign their waiver

Minimum participant age is 15 years old (participants 15-18 years old must be accompanied by an adult)

Not recommended during pregnancy

In the event of serious weather conditions, the session may be rescheduled

This activity takes place in Glasshouse Mountains National Park. There are no toilet facilities on or near the mountain, so consider making a pitstop at the Puma Service Station before the activity.
Cancellation Policy

Pinnacle Sports has a team of passionate and qualified staff. Our activities all run with a small group-to-guide ratio to offer the best possible experience and the highest level of safety. Because of these small group sizes, late cancellations can have a significant impact on our profitability and, therefore, we have the following policy for cancellations:

No-shows forfeit their payment and no re-booking/refunds will be given.
If you are late to an activity, you

may

be permitted to participate, provided that the guide is satisfied it will not impact the safety of the group or impose unreasonable delays. If the guide does not allow you to participate due to lateness, you will be treated as a no-show.



Because we run small group sizes, cancellations made less than 72 hours before the activity commences will not be eligible for a refund, in recognition of the low likelihood that we would be able to fill your spot on short notice.
​If you need to cancel within the 72 hours prior to the activity commencing, you are able to donate your spot to someone else, provided that their details are provided to us prior to the activity commencing. If this requirement is not met and/or they do not show up to the activity, it will be treated as if you had simply cancelled the booking.
Pinnacle Spots reserves the right to cancel any activity for any reason, including but not limited to: venue closures, illness of the tour operator, pandemic events, and other diseases declared to be quarantinable diseases. If Pinnacle Sports cancels an activity of its own initiative, participants will be issued with a credit for the value of the course and offered the chance to re-book at a later date.